Regular price
Sale price
$35.00 USD
Unit price
per
Sale
Sold out
Experience the luxurious benefits of our ultra-rich eye cream, carefully crafted with a powerful blend of super fruit antioxidants and Vitamin C. Enriched with high concentrations of avocado oil and sweet almond oil, this cream works wonders to firm and revitalize the delicate skin around your eyes. It helps to diminish the appearance of fine lines, wrinkles, puffiness, and dark circles, while nourishing your skin and restoring its natural elasticity.

Hydrating and Nourishing . Reduces Fine Lines and Wrinkles
Aviesia Organics eye cream deeply hydrates and nourishes the skin, leaving it smooth and healthy-looking.
Key Ingredient
Avocado Oil: Avocado oil is rich in fatty acids and antioxidants, which help to moisturize and soothe the skin around the eyes, reducing the appearance of fine lines and wrinkles.
Reduce the appearance of dark circles and promote a more radiant complexion
The cream is formulated to reduce the appearance of fine lines and dark circles, providing a rejuvenated look around the eyes.
Key Ingredients
Jojoba Oil: Jojoba oil is a natural moisturizer that is easily absorbed by the skin, helping to hydrate and soften the delicate skin around the eyes.

Pomegranate Seed Oil: Pomegranate seed oil is a natural source of antioxidants and vitamins, which can reduce dark circles and promote a more radiant complexion.
Ingredients: 
Aqua, Capric Caprylic Triglyceride*, Glycerin*, Xylityl Cocoate*, Cocos Nucifera (Coconut) Oil*, Cera Alba*, Simmondsia Chinensis (Jojoba) Seed Oil*, Stearic Acid*,Glyceryl Stearate*, Theobroma Cacao (Cocoa) Seed Butter*, Punica granatum (pomegranate) seed oil*, Xylityl Caprate/Caprylate*,Persea Gratissima ( avocade oil) *, Prunus Amygdalus Dulcis ( sweet almond) oil*, Xanthan Gum, Citrus Sinensis (orange) Peel Oil *
( * Organically Produced Ingredient. )

Share
View full details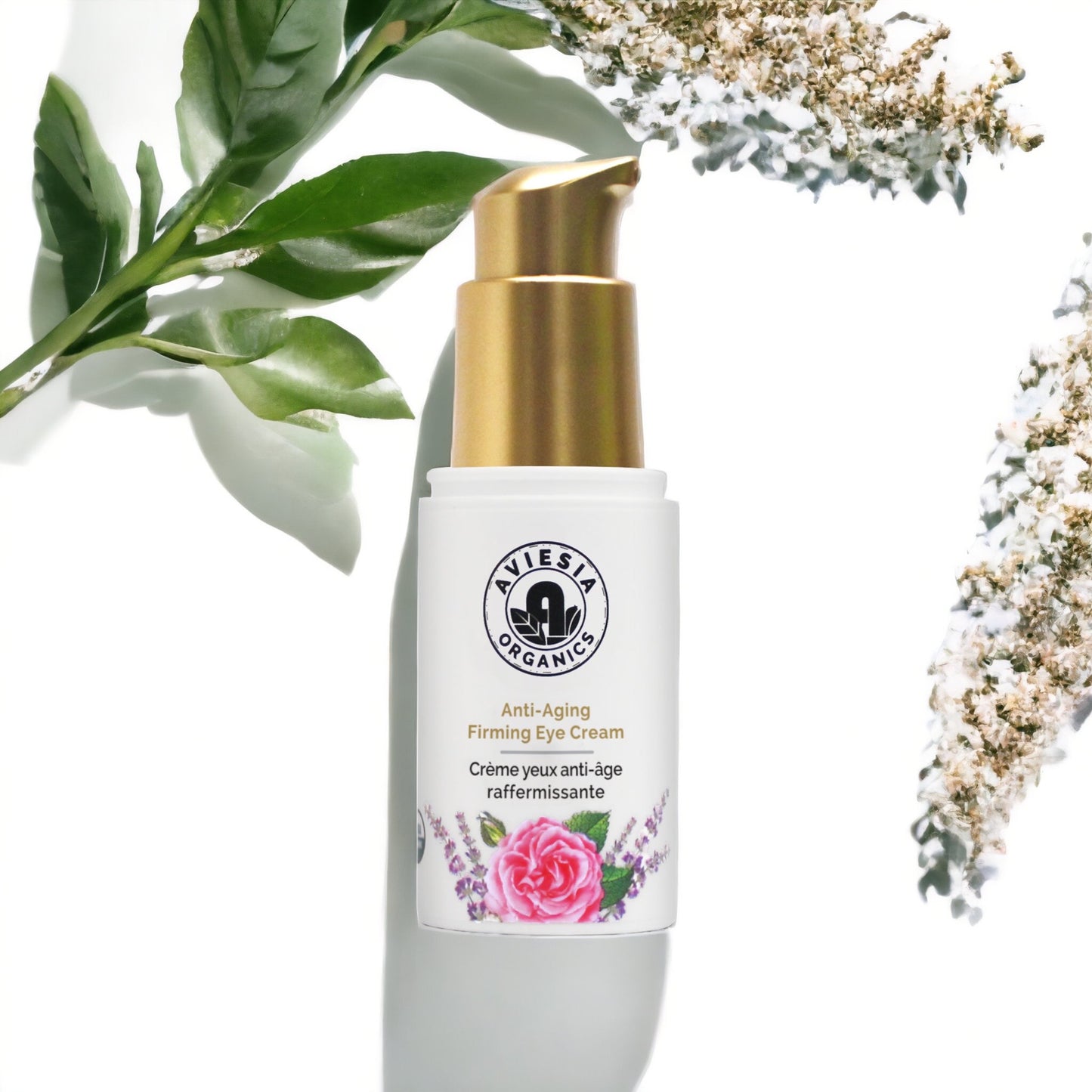 Perfect for my eye area
I really like this product. It's consistently just right—not too light or too heavy. Works well under makeup, and it feels nice and luxurious.
Well-Hydrated Eye Cream
I had been using this eye cream day and night for about 1 week. I love its texture, and it has almost no scent, maybe just a hint of avocado. My skin feels so soft and well-hydrated.
Amazing for sensitive skin
This eye cream is fantastic for sensitive skin; it is highly moisturizing. I tried another eye cream designed for sensitive skin, and while it was okay, it didn't provide enough moisture for my eye area. This eye cream is AMAZING – it's perfect for my sensitive skin and keeps my skin well-hydrated, even under makeup!
Excellent product !
I have sensitive skin and have no issues with this cream. The texture is so nice, not greasy at all.
Five Stars !
I wasn't expecting much from this product, but I have been pleasantly surprised by its performance. I have extremely sensitive skin, I've had my fair share of disappointments with skincare products in the past. However, this particular product has truly exceeded my expectations.
Firstly, it's incredibly gentle on my skin. I've experienced no irritation, redness, or discomfort since I started using it. This is a huge relief for me, as most products tend to cause some form of reaction on my sensitive skin.
Secondly, I've noticed a significant improvement in the overall condition of my skin. It feels smoother..The product seems to be doing wonders in terms of hydration and addressing some of my skin's concerns.
Lastly, I appreciate that it's easy to incorporate into my skincare routine. It doesn't feel heavy or greasy, and it absorbs quickly.