Regular price
Sale price
$42.00 USD
Unit price
per
Sale
Sold out
Deep Moisturizing
Our Day Moisturizer is formulated with a perfect blend of pomegranate seed oil and organic butters, which work together to provide deep hydration and nourishment to your skin. These natural ingredients are rich in antioxidants, which help to protect your skin from harmful free radicals that can cause damage and premature aging. With regular use, your skin will feel softer, smoother, and more supple.
Discover the Benefits of Jojoba Oil in Our Day Moisturizer for Soothed and Protected Skin
Our day moisturizer contains jojoba oil, which has numerous benefits for the skin. Jojoba oil is a natural emollient, which means it helps to soothe and soften the skin. It is also non-comedogenic, meaning it won't clog pores, making it an excellent choice for those with oily or acne-prone skin. Additionally, jojoba oil is rich in antioxidants, such as vitamin E, which can help to protect the skin from damage caused by free radicals. All of these benefits make jojoba oil a key ingredient in our day moisturizer, providing deep hydration and protection for your skin throughout the day.
Lightly Fragrant, Absorbs Easily
Our cream is lightly fragrant from herbs and contains No artificial perfume.
It is designed to deeply moisturized and hydrate your skin during day time. It absorbs easily and does not leave a heavy feeling on your skin. The allows you to enjoy a pleasant and natural floral scent while taking care of your skin without any worries .
Ingredients
Aqua.Capric Caprylic Triglyceride*.Glycerin*.Xylityl Cocoate*.Cocos Nucifera (Coconut) Oil*.Cera Alba*. Stearic Acid*. Simmondsia Chinensis (Jojoba) Seed Oil*. Theobroma Cacao (Cocoa) Seed Butter*.Punica granatum (pomegranate) seed oil*.Xylityl Caprate/Caprylate*. Glyceryl Stearate*.Xanthan GumCitrus Grandis (Grapefruit) Peel Oil*.Lavandula angustifolia (Lavender) Flower Oil*.
(*Organically Produced Ingredient )
Our Promise :

Share
View full details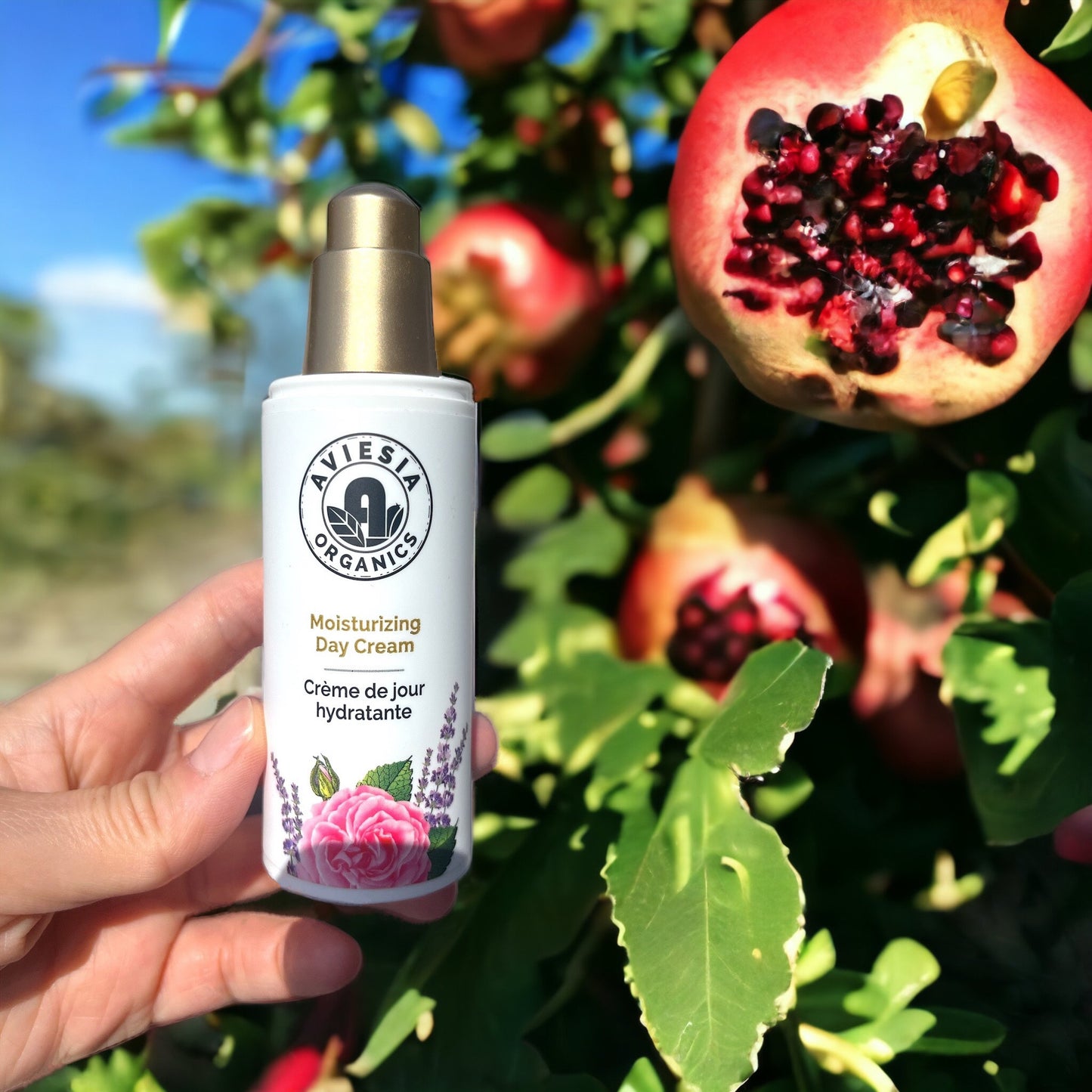 Made my skin feel so plump and soft
This day moisturizer Is very moisturizing . It has made my skin feel so plump and soft , and I just found out it is 60ml which is great !
Best day cream under make up
I bought these products mainly because their packaging looked really nice, and also because they're organic with a USDA certification. I've been using them for a few weeks, and I've noticed that they're quite moisturizing. The day cream is especially good – it gives enough moisture for the daytime even when I'm wearing light makeup. It's really gentle too, my skin hasn't reacted negatively to it at all.
Smooth Day Cream
I purchased this Day cream becoz I love the Serum ,this day cream texture is very smooth and smell so good. I feel maybe little rich on my skin.
Amazing Day Moisturizer
This day cream is hydrating for my dry and sensitive skin! It smells divine. I'm sensitive to scents and although it has a floral scent it isn't overwhelming. My skin feels softer after using this day cream. The other thing I like is the cap cannot be opened,I believe it keeps the product fresh.
Organic lover
I love organic products. This cream smells wonderful . It also has a long-lasting effect. My sister just tried it yesterday, and she loves it, especially the scent.